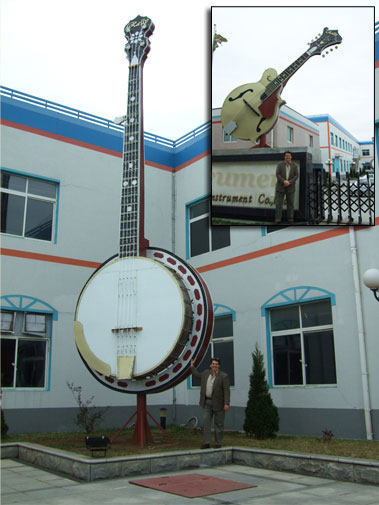 Upon pulling up we saw their three story tall Banjo display
I called months ahead to request a factory tour of the largest manufacturer of
Autoharps
in the world. I knew I might have a chance, but I wasn't sure. The day I got word that the factory management agreed to arrange a tour; I was excited because I would finally see first hand what went into the quality Oscar Schmidt instrument that I knew so well.
Flying in I could see that a once quaint seaside village is now a bustling city. The farmers and fisherman that previously struggled, now have thriving industries and prosperity that they're never known before. Although today they are skilled craftsman, their dedication to perfection shows deep within their psyche and as a result the quality products that they produce.
I don't think that they could have treated me any better. From the moment that I got off the plane when the plant manager greeted me, to the tour of the factory and showing off a great little city I was treated very well. Having landed just before noon - the first order of business was lunch. The plant manager lived in the Korean section of the town so he wanted to take me to a special restaurant that was one if his favorites. We enjoyed truly authentic Korean barbeque, cooked over coals right in the center of the table.
Afterwards we went over to the factory. Upon pulling up we saw their three story tall Banjo display. It was apparent that this is one of the leading musical instrument manufactures in the world. It was immense, clean and modern - their showroom had more amazing instruments that have been played by more famous musicians that any Hard Rock Café that I had ever been in. It seems that all of the famous brand that I grew up with had at least part of their line made here.
Behind glass cases there were incredible intricate inlays of masted sailing ships and the majestic American eagle. Each one took hours of an artisan's time and effort to create. My host explained about the apprenticeship program at the factory that each apprentice works under a master craftsman for a minimum of three years and they are only released when their skills equals that of the master.
The specialties require different skills and therefore have different master craftsman. What I really found intriguing was the care and skill taken in the drying and ageing of the woods used for the instruments. Some of the wood is delivered to the factory years before it can be used in an instrument. It is this ageing of the wood that is an integral part of what gives each instrument their deep tones and rich sounds. Dedicated masters inspect every piece of wood daily to manage the ageing process. Too much moisture means mold and rot, too little moisture means cracks and splintering. After the ageing process is complete, the pieces are inspected throughout the manufacturing process, if even one issue is found than that the wood is rejected!
I was also amazed to see the handiwork and care taken with each autoharp. Every Oscar Schmidt Autoharp literally goes thru 1000's of hand operations in the manufacturing process. Even though there is a machine to help the masters accurately cut, sand, and spray the wood, each piece is still hand fit, all joints are sanded by hand and the finish is hand rubbed. During this process the temperature and humidity is carefully controlled to insure perfection.
The finished instruments move to a temperature and humidity controlled room for stabilization. After this stabilization period the instruments are check again and carefully inspected for the proper tone from each of the species of wood used. Once they have passed their final inspection they are cautiously packed for shipment and sent to our temperature and humidity controlled warehouse awaiting your order.
Each autoharp takes approximately four weeks to make its way through the factory. Now when I hear that a single craftsman can only make 20 to 30 a year I understand why the care, skill, and passion put in to each of these masterpieces is worthy of the Oscar Schmidt's century old name. We finished the day with an amazing tour of this seaside city. The scenic drive along the coast with breath taking views and beautiful white sand beaches was a perfect end to an enlightening day.